Important SHDA Summit Update
Dear Members,

Like each of you, SHDA is closely monitoring COVID-19 and its effects on hosting the SHDA 50th Anniversary Industry Advancement Summit. For the safety of the entire SHDA community, we have postponed the 2020 Industry Advancement Summit to August 10-14, 2020. We are grateful to our host location, the Embassy Suites Dallas-Frisco, for their commitment to our program and flexibility in this uncertain time.
All current attendee and Manufacturer Suite registrations will be transferred to the new August dates. For those who are registered and unable to attend in August, you will have until June 14th to request a full refund. Please supply this request via email to SHDA Registrar, Stacie Binnix at sbinnix@shda.org. (Please note: A refund could take up to 30 days to process.)
I am looking forward to celebrating SHDA's 50th Anniversary and the resiliency of the SHDA membership in August. I can't wait to see you all in Frisco.
Please let me know if you have any questions and do not hesitate to reach out if the association can be of assistance to your businesses in any way.
Stay healthy and safe.
Amy Luckado
SHDA Executive Director
---
SHDA's 50th Annual Industry Advancement
Summit returns to the Embassy Suit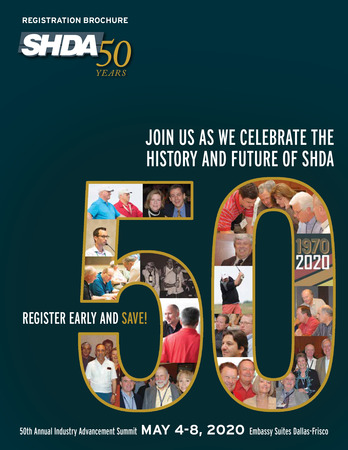 es Dallas-Frisco to celebrate 50 years of networking, education and the exchange of ideas – the core of what makes this meeting so iconic.
See Who's Coming!
Click The Brochure Cover to View!
Check Out Photos from the 2019 Summit
Click here to download photos