Welcome
SHDA's mission is to continually improve, through education and services, the proficiency of Security Distributors in order that they are the most effective and efficient conduit to the marketplace.
Registration Now Open for the 2014 University of Innovative Distribution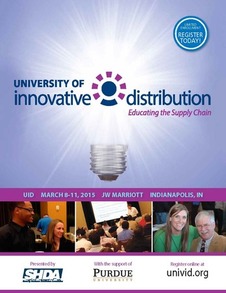 Register now!
---
You Can Always Sell More – Are You Good Enough To Get Better?
2 Day Advanced seminar for the experienced sales professional
Presented by Jim Pancero
December 2-3, 2014 – Great Wolf Lodge – Dallas, TX
For more details and to register for the seminar visit: www.pancero.com/aea
Questions, or to register by phone: Call Paul at 800-526-0074 ext. 2
---
2015 SHDA Industry Advancement Summit Dates And Location Announced
2015 Annual Industry Advancement Summit
April 28 – May 1, 2015
Pointe Hilton Resort at Squaw Peak
Phoenix, Arizona
More Details Coming Soon! Why use assessments? Increase your return on investment!
Hire the right job fit by matching candidates to your custom job pattern with the Profile XT
Reduce turnover costs & make more informed decisions about employees.
Use the Step One Survey to learn who is a high risk hire because of workplace attitudes in
honesty, integrity, reliability, and substance abuse
Personality Profiles - "IMPROVE RELATIONSHIPS AND YOU'LL IMPROVE PRODUCTIVITY!"
For more information, click here. To get started visit here.
--- INTRODUCING SHDA DOORS & HARDWARE 101 PRESENTED BY DHI
This course introduces the fundamentals of architectural doors and hardware to those new to this industry and desiring to understand the basics of the products and their applications. It's a simple introduction to understand the critical components of openings that provide life safety and security to building users.
For more information, click here. To get started, visit here.

Featured Partners & Services
News & Info
New logo, new name, new message
Upcoming Events
March 8-11, 2015
Indianapolis, IN
April 28 - May 1, 2015