It's hard to believe that the Industry Advancement Summit was just about two months ago. (I am sure everyone else is also having quite a busy summer.) We packed a lot into those four days: some fun at the golf tournament, baseball night, and gala celebration of 50 years of association excellence and then down to business during the three days of one-on-one appointments. We also found the time to make significant improvements to the association's operations with the passage of new bylaws.

I personally find the summit as the most valuable and rewarding benefit of SHDA membership. Thank you to the 250 members who traveled to Dallas, and my sincerest gratitude to our event sponsors: Allegion, Detex, dormakaba, Ilco, KSP, and Lockey USA.

SHDA recently asked our associate members to volunteer and make presentations on security hardware. Thank you to those who are stepping up to the plate to provide these informative sessions. Don't miss our webinar on June 28 — our friends at Allegion will be sharing their insights on classroom security and the nationally recognized PASS guidelines.

Again, thank you to everyone who made the Industry Advancement Summit such a great success: our SHDA staff, our sponsors, and of course the members who carve out time from busy schedules. Save the date for 2023. We'll be meeting at the beautiful Caribe Royale in Orlando on April 24 through 28.

Enjoy the summer!

Regards,

Rob Justen 

---
---
On Monday, April 25, 2022, members of the Security Hardware Distributors Association (SHDA) convened in Frisco, Texas for its annual Industry Advancement Summit. The week-long event provided multiple opportunities for distributors and associate manufacturing members to meet face-to-face to strengthen existing business ties and forge new connections. The 2022 summit hosted a record-breaking number of first-time attendees (nearly 60) and served as a chance to belatedly celebrate SHDA's 50th anniversary. A total 250 attendees met at the event north of Dallas.

"In the security hardware industry, there is nothing quite like the association's summit," said SHDA President Rob Justen of Doyle Security Products. "There is a great balance of programming, with an educational component, one-on-one appointments for associate manufacturing members and distributors, and informal networking functions."

THANK YOU TO OUR INDUSTRY ADVANCEMENT SUMMIT SPONSORS



---
SHDA Associate Advisor Update for June 2022

Robert Stetson of ASSA ABLOY shares some insights on the headwinds and tailwinds impacting the industry for the rest of this year and into 2023. Read more on the SHDA website.

Labor Still Critical Issue for Security Industry

Cory Harris of Security Systems News shares the publication's findings from a recent poll on staffing in the security industry. Nearly 55 percent of respondents indicated that COVID-19 impacted employee turnover "a lot."

---
---
Ditec Entrematic Rebrands as Record in North America

After ASSA ABLOY purchased the record group in 2020, in an effort to further strengthen product offerings and services, the decision was made to merge the brands together. Read more on the Entrematic website.

Top Notch Distributors Adds Mid-South Territory Manager

Top Notch Distributors has named Jim Lewis as the Mid-South territory manager for the TND Outside Sales Team, based in Apex, North Carolina, and covering southern Virginia, North Carolina, South Carolina and Georgia. Read more.

SHDA Welcomes New Members: Lockly PRO, Chamberlain Group

Earlier this year, SHDA welcomed two new members to the association family: Minnesota-based Lockly PRO and Chamberlain of Fort Worth, Texas.

Lockly PRO is a smart access solution provider with a full range of hardware and the best-in-class software as a service (SAAS), including an access and security portal vertically integrated with reliability and innovation combined. Established in 2015, the company serves commercial and professional markets (multi-family, hospitality, property management, smart home installation, builders, and locksmiths).

Chamberlain specializes in customer-installed garage door openers, with products available at major retailers. Their product line includes belt- and chain-drive openers and related remotes and accessories. The company integrates smart technologies into their products, allowing consumers to remotely control their doors via the myQ Garage and Access Control app. Chamberlain is part of the larger Chamberlain Group (LiftMaster, Controlled Products Systems Group, Systems, LLC, and Merlin)
Associates: Share Your Expertise on Products, Training
Did you know you can share your product-specific training program and material on the SHDA website? Join fellow members and help keep SHDA's education portal robust and informative for distributors. It's easy: just email your content to info@shda.org.
---
Are You Taking Advantage of SHDA Business Discounts?
Learn more about how you can save throughout the year with preferred rates on shipping, technology, car rentals, and credit card processing to lower your business expenses.
SHDA membership affords you savings to help your company run as efficiently as possible. Learn more today!

MEMBER BENEFIT SPOTLIGHT
| | | |
| --- | --- | --- |
| | | SHDA partnered with Savings4Members to provide you with access to cost savings programs to help you spend less time worrying about expenses, including fuel. Use Savings4 Members to save at major gas brands across the country. Fuel is just one area to save; through Savings4Members you have access to various discounts with national vendors to help you buy and save on other products and services you use every day. Click for more information. |
---
Upcoming Educational Events
June 28, 2022
1:00-2:00PM
Presenters: Nicole Dyer, Jeff Batick, and Ken Cook of Allegion
Zoom
---
July 13, 2022
3:00-4:00PM
Presenter: Michael Foster, IT Best Practices & Cyber Security Specialist
Zoom
---
November 2, 2022
3:00-4:00PM
Presenter: Matt Schreibfeder, Effective Inventory Management, Inc.
Zoom
---
April 24-28, 2023
Caribe Royale
Orlando, FL
In Case You Missed It...
Did you miss last month's webinar on inventory sharing? Ted Henry of WarehouseTWO provided an introduction to the concept and providing an explanation as to why it can help both distributors and manufacturers grow their business in sales and profits. SHDA webinars are recorded to let you learn on your own time. Just click the screencap below to get started.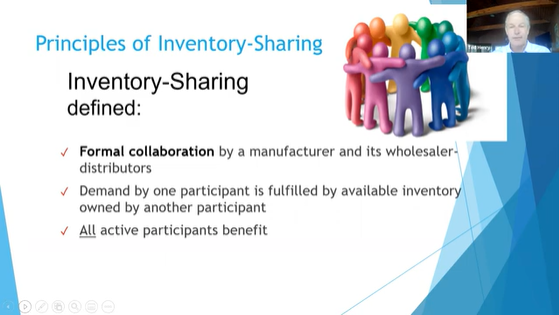 ---
Don't Miss Out on the Conversation
Keep the discussion going by engaging with us on social media. #SHDA